Class of 2024
Jason Kondrat, MD
Jason Kondrat, MD
RESIDENCY PROGRAM: Emergency Medicine
HOMETOWN: Brooklyn, NY, United States
UNDERGRADUATE SCHOOL: University of Pittsburgh
MEDICAL SCHOOL: Touro College of Osteopathic Medicine- Harlem
ABOUT ME: Born and raised in Brooklyn, NYC. New York City is also where I went to Medical School and is where I trained in residency at Staten Island University Hospital. I started my passion for ultrasound during medical school with a few medical school rotations and continued that passion throughout residency. I geek out over nerve blocks and will join you for any that you want do while you are on shift. I am a perfectionist when it comes to POCUS ECHOs and right upper quadrant ultrasounds and I hope I can inspire you to perfect your POCUS too. As emergency departments and hospitals are not known for their large windows and sunlight, in the last few years I have gotten into hiking, camping with the goal of camping in all of the national parks in the US, and have just started to get into bouldering. I have been told I have a talent for cooking and have been known to bring some treats and leftovers to conference on occasion.
ACADEMIC HIGHLIGHT: Survived and thrived in residency in a large Level 1 trauma center in a busy Emergency Department in New York City.
WHY EISENHOWER HEALTH: My brother as well as a few other family and friends moved to Southern California and since visiting fell in love with the lifestyle, people, and culture here. When I was looking for positions after residency Dr. Kurzweil and Dr. Whited blew me away with how genuine they were and how interested they were with growing my career and interest in ultrasound. Walking through the Emergency Department at Eisenhower I was impressed with how friendly and kind everyone was and got me excited to work here.
Class of 2022-2023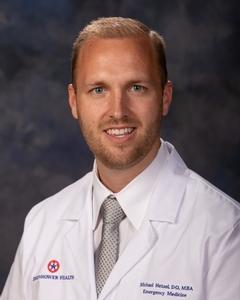 Michael Hetzel, DO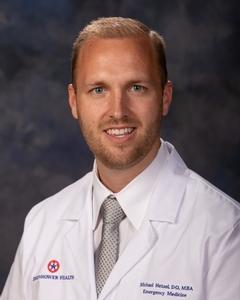 Michael Hetzel, DO
NAME: Michael Hetzel
HOMETOWN: Springville, UT
UNDERGRADUATE SCHOOL: Utah Valley University
MEDICAL SCHOOL: Kansas City University
ABOUT ME: I'm married to my beautiful wife who takes care of me and our two kids, a 4-year-old boy and 2-year-old girl. We love to do anything outdoors, including hiking, biking, camping and swimming. We also love to travel and explore new places. I grew up snowboarding in Park City every winter, and wakeboarding in Lake Powell every summer and still love trying to do that whenever I can.
ACADEMIC HIGHLIGHT: Emergency medicine honors track student
WHY EISENHOWER HEALTH? Location, Location, Location. My family and I love the endless opportunities for adventures nearby. We love going to Disneyland, the beach, and the mountains that are all close enough for a day trip. Being a community program, there isn't much competition for procedures so I know I will be very comfortable on my own after residency. Palm Springs brings people from all over to visit and with that comes a huge diversity of pathology.